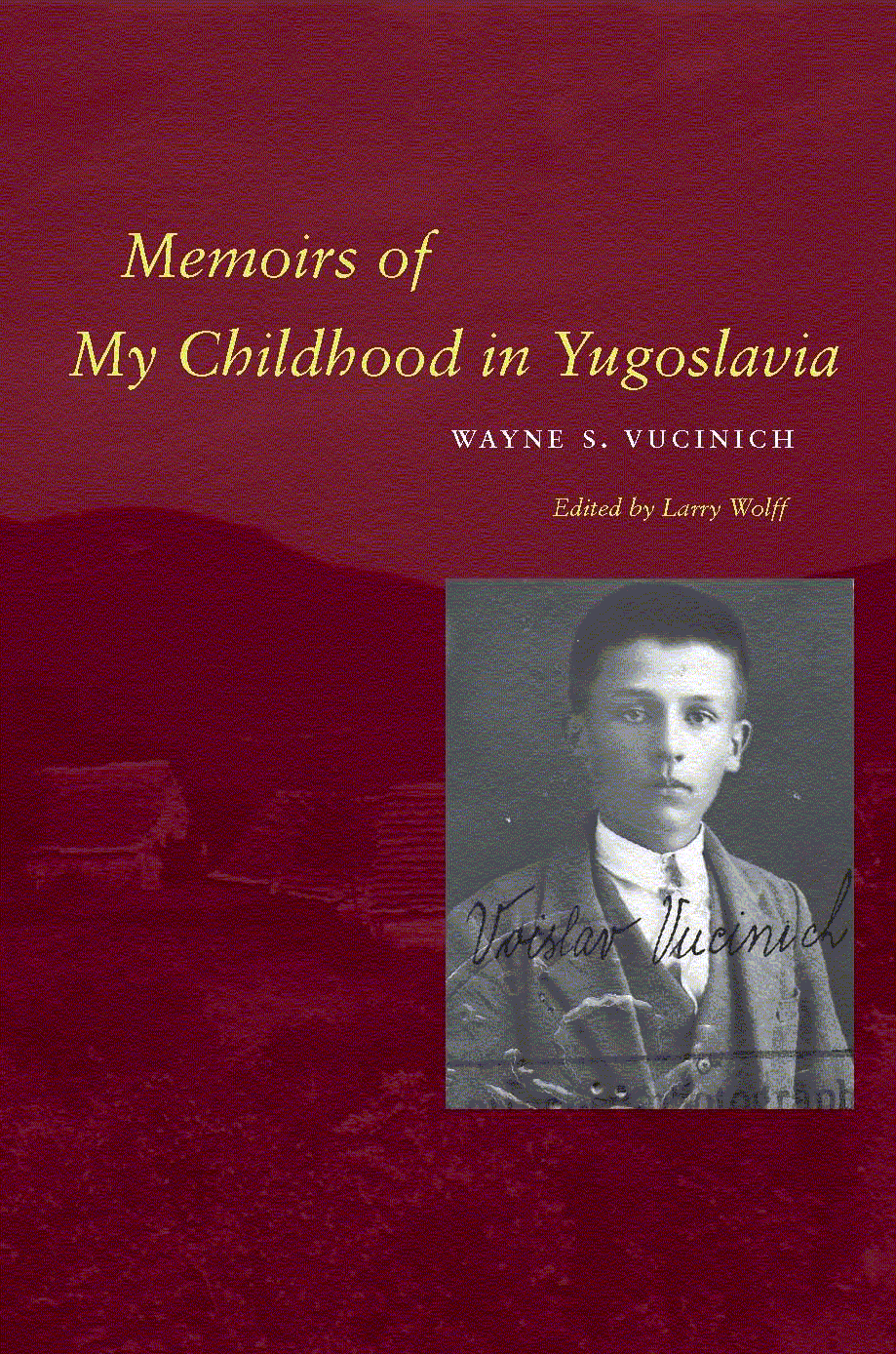 Memoirs of My Childhood in Yugoslavia
Wayne S. Vucinich
Edited by Larry Wolff
"Written with charm and involvement by the renowned Stanford historian Wayne S. Vucinich, this posthumous book provides a rare view of a childhood in the lost world of the Balkan countryside. Having fixed his boyhood in the rural environment of Eastern Hercegovina in the 1920s, at the point when the centuries of tradition and lore were giving way to modern attitudes and challenges, the sage author drew on memory and scholarship to present a fascinating trajectory from an immigrant community in America to interwar Yugoslavia and back. Highly recommended for both specialists and the general public."
—Ivo Banac, Bradford Durfee Professor of History, Yale University
"In editing the manuscript from this avalanche of pages and notes to give us Memoirs of My Childhood in Yugoslavia, Larry Wolff has done a great service to the memory of Wayne Vucinich and to his legacy."
—Vartain Gregorian, President, Carnegie Corporation of New York
Wayne Vucinich (1913–2005) was one of the twentieth century's foremost historians of Eastern Europe, and a legendary teacher at Stanford for more than four decades. Now published posthumously, these memoirs tell the extraordinary story of his childhood in Yugoslavia in the 1920s, living among peasants and shepherds in the traditional mountain society of Hercegovina. His story offers a child's perspective on the Serbian extended family, on the survival of venerable South Slavic customs, on the founding decade of Yugoslavia's existence after World War I, on the tensions and complexities of society in Bosnia and Hercegovina, and on the movement of immigrant populations between American and Eastern Europe. In these memoirs a great scholar in America looks back upon his childhood in Eastern Europe, and brilliantly describes a traditional peasant society as it faced the first intimations of modernity.
The book offers a striking synthesis of scholarly expertise and personal memory brought to bear upon the native region of the Vucinich family in Bosnia and Hercegovina, the region of Bileca Rudine, constituting its own isolated world of mountains and flocks, of family loyalties and time-honored rituals—the world that shaped the author's values, emotions, and ideals. With this posthumous volume Professor Vucinich gives us one last powerful contribution to our understanding of the issues that he studied with such great insight and erudition during his lifetime.
Wayne Vucinich was Professor of History at Stanford University.
Larry Wolff is Professor of History at New York University. He received his Ph.D. from Stanford in 1984, writing his dissertation under the guidance of Wayne Vucinich. The revised dissertation was published as The Vatican and Poland in the Age of the Partitions (1988). Wolff's other books include Inventing Eastern Europe: The Map of Civilization on the Mind of the Enlightenment (1994) and Venice and the Slavs: The Discovery of Dalmatia in the Age of Enlightenment (2001), as well as the edited volume The Anthropology of the Enlightenment (2007).
225 pages. 2007.
ISBN 978-0-930664-27-5